United States Bankruptcy Court
Welcome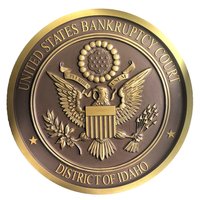 Welcome to the U.S. Bankruptcy Court for the District of Idaho.
We hope this website will provide useful information about the Court, its operations and its processes, and answer many of the questions you might have. Please let us know if you have suggestions to improve the site.
Below you can find the latest news from the Bankruptcy Court for the District of Idaho.

Interactive Database to Search Judiciary Trends
May 16, 2017
The FJC has recently enhanced it's database that houses information about federal case filings.

Tri-State FBA Conference Oct. 5-7 - Jackson, WY
May 16, 2017
The 13th Annual Tri-State Conference program information is available. Hotel and conference registration is now open.

District of Idaho Courthouses Closed - May 29
May 15, 2017
The District of Idaho courthouses will be closed on Monday, May 29 in observance of Memorial Day.

Northern Idaho Jury Scam
May 05, 2017
Individuals are posing as Federal Court and Kootenai County Sheriff Officials in order to scam citizens out of money.

Bankruptcy Court - Judicial Vacancy Announcement
May 04, 2017
The Court of Appeals for the Ninth Circuit invites applications for the position of Bankruptcy Judge for the District of Idaho.

Updated Means Testing Data Effective May 1, 2017
Apr 17, 2017
Updated Census Bureau Data applicable to cases filed on or after May 1, 2017 is now available on the US Trustee's website.

FBA Brown Bag Lunch- Coeur d'Alene- June 21
Mar 27, 2017
Chief Judge Bush will discuss items of interest to the federal practitioner. Lunch will be provided.

Message from Judge Pappas to the Bankruptcy Bar
Mar 22, 2017
Judge Jim Pappas has released a message to the Idaho bankruptcy bar regarding his intention to retire.

Microsoft Word Documents Emailed to the Court
Mar 16, 2017
Please read the Court's advisory message regarding Microsoft Word documents containing embedded macros.

Print Me